Brief English Version

Portrait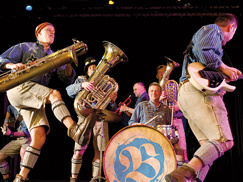 Blechblos'n has been around for over 25 years… …which means more than 25 years of stage and party experience. 7 guys with umpteen instruments - we're ready for any kind of fun and never pass up a chance to take it up a notch. Both producers and fans describe our repertoire as limitless, ranging from a traditional Bavarian entry march to all facets of light and party music, rock classics and current chart hits. When our string and rhythm section kicks into action, complemented by groovy-flamboyant horns and topped off by powerful vocals in several part harmony, every last person in the room realizes that we are not just a "brass band", but the sassiest, earthiest and most versatile band beautiful Bavaria has brought forth the last 25 years. This is rounded off with witty presentation, peppered with nutty show segments - all guaranteed to bring about infectiously high spirits and rollicking joie de vivre.
Before the big Blechblos'n party begins with its state of the art sound and light technology, turning the hall or tent into a boiling pot, our 5 person jazz and dinner combo can gladly accompany the arrival of guests or buffet at a lower volume. We can't wait…
---
Booking Information
We play in beer tents and open air concerts, at fairs and company parties or for other special occasions. Our standard group consists of seven people: horns, rhythm, guitars, keyboards and vocals. A wide range of current pieces and popular melodies make up our repertoire - from Bavarian brass music to standards, rock and roll, swing, country and current pop chart hits. Our top acts are parodies of famous artists. We get your audience moving with unique costumes and full-fledged physical performance.
You can discuss the routine with us in detail beforehand if you have individual wishes.
Larger halls and tents occupying 400 to 5000 people are ideal for our performances.
We will provide a suitable sound system and the "light show".
Our technicians assure a smooth set-up and execution.
Our stage plan with technically relevant information is available as a PDF for downloading.
If we've made you curious feel free to
contact us
!
---
Musicians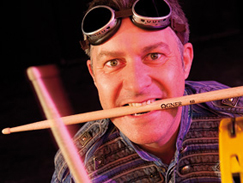 Werner Heckmeier
Birthday: 4.23.1967
Drums, Vocals

As a member of Drummers` Focus he's out and about with the best drummers in the world - nothing can throw off our "clockwork" on the Blechblos'n stage.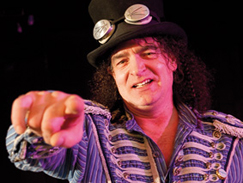 Roland Schleifer
Birthday: 1.22.1964
Tuba, E-Bass, Vocals

Our groove master and low tone specialist really makes your trouser legs flutter with his hot e-bass and rustic tuba. He supplies the rhythm that sweeps you off your seat!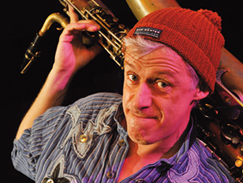 Günter Höchtl
Birthday: 7.29.1965
Clarinet, Soprano, Alto, Tenor and Baritone Saxophone, Vocals

Also called "Das Günter" and both his pointy hat and his saxophone seem to be permanently attached. Every note hits the spot…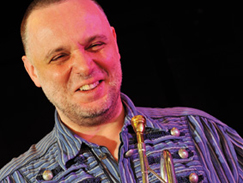 Peter Oswald
Birthday: 4.21.1964
Solo Trumpet, Garden Hose

No note is too high and no jazz classic too difficult for this trained seasoned professional.
Pure "horn power "!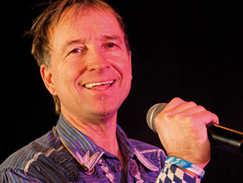 Manfred Popfinger
Birthday: 3.2.1964
Acustic Guitar, Alto Sax, Vocals

He can perfectly play the role of any show star imaginable – yes, even the female ones – which he then skillfully spoofs them thanks to his Greek god-like body.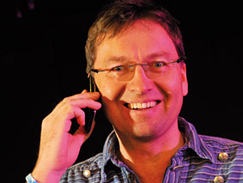 Reinhard Unsin
Birthday: 1.11.1964
Valve Trombone, Tenor Horn,
Keyboard, Percussion

The music-making manager – he appoints with a sure hand and drives the band to certain world fame. For all you wind instrument insiders: Reinhard plays a Melton MW-B34 baritone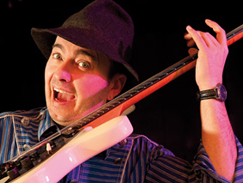 Robert Denk
Birthday: 9.10.1969
E-Guitar, Trumpet, Vocals

He is considered the perfect fusion of Jimi Hendrix and Ricky King. You would need two guitarists to replace him. For all you guitar specialists: Robert uses exclusive Diezel amps.